The Private Rooms at Birch Gardens
Our private rooms promote independence.
Ease the transition of your loved one to a senior living community with our highly sought-after private rooms. Providing a sense of dignity, our private rooms at Birch Gardens offer the perfect solution. Tailored to their preferences, residents can personalize their private living quarters to resemble a cherished home or adorned with top-quality furnishings. With a private bathroom, cable TV, and WiFi access, each room provides essential amenities. Embraced by our residents, private rooms have become a popular choice at Birch Gardens. While we offer beautiful furnishings, residents often bring their own, recreating a comforting sense of home. We understand the significance of personalizing their space, as private rooms provide a serene and tranquil environment for residents to truly make their own.
In-Room Entertaining
Using technology to keep your loved one entertained.
At Birch Gardens Assisted Living, every room is equipped with cable TV and Wi-Fi, enabling residents to privately and conveniently connect with their loved ones.
Fire Security System
We believe in a zero compromise policy when it comes to safety.
Rest easy knowing that we have taken extensive measures to safeguard your loved one. Our vigilant team consistently monitors and maintains our advanced fire system, guaranteeing their safety.
Emergency Calling
For The Safety And Security Of Your Loved One.
With a simple press of a button, your loved one can instantly notify a dedicated Birch Gardens staff member of any medical concerns, personal needs, or emergencies they may have.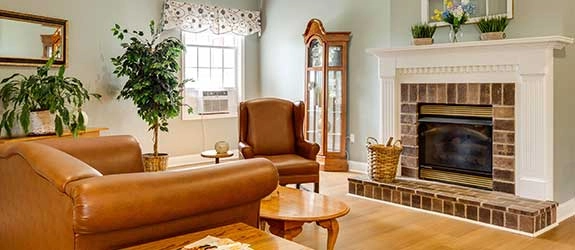 Schedule your tour at Birch Gardens.
Your loved one deserves the pinnacle of care.