About at Birch Gardens Senior Living
Designed to foster friendships and a full life.
Welcome to Birch Gardens Assisted Living, where Southern Charm meets bespoke senior living. Our warm and inviting community is designed to provide exceptional care and peace of mind to all senior living residents, including those with dementia and Alzheimer's.
At Birch Gardens, we prioritize the well-being of our residents and their families. Our goal is to keep them spiritually and physically engaged while creating a socially and mentally uplifting environment. We believe in choice and individuality, allowing residents to select activities that align with their interests and preferences.
Our wide range of regular activities, games, and social opportunities ensures that residents stay physically stimulated and mentally engaged. From Bible study and bingo nights to a library filled with large-print books and craft projects, there's always something to enjoy throughout the day at Birch Gardens.
Experience the perfect blend of Southern Charm, compassionate care, and engaging activities at Birch Gardens Assisted Living. Contact us today to learn how we can enrich the lives of your loved ones and provide the peace of mind you deserve.
Dining Services - Fresh, Homemade, Locally Sourced Meals
At Birch Gardens Assisted Living, we prioritize the health and nutrition of every resident. Our dedicated staff believes that providing delicious and nourishing meals is of utmost importance. With our in-house chef, we ensure that each meal is prepared with the comforting flavors your loved one appreciates. Our culinary service takes great pride in using locally sourced, fresh ingredients for every dish. Residents enjoy three well-balanced meals daily, along with a variety of daily snacks, ensuring they receive healthy nutrition throughout their stay at Birch Gardens.
The Birch Gardens Lifestyle
Birch Gardens Assisted Living offers an array of amenities that ensure residents can experience a comfortable and fulfilling lifestyle. With an on-site beauty salon, barber shop, and a diverse range of social and physical activities, we prioritize quality of life above all else. We also recognize the significance of providing caregivers with respite.
Care Support Services- Because Your Loved One Has Unique Needs.
At Birch Gardens, we provide personalized support services tailored to meet your loved ones' lifestyle needs. Our dedicated team and comprehensive amenities offer a wide range of services, including housekeeping, laundry, dressing, bathing, and incontinence management. For those requiring extra assistance, our Brookside team is available to aid with medical management, daily eating, and mobility needs. With round-the-clock staffing, our goal is to create a nurturing and supportive environment where your loved one can maintain their independence and dignity while receiving the necessary care.
Daily Assisted Living - Helping to overcome daily obstacles.
At Birch Gardens, our dedicated team is committed to providing residents with daily living assistance. We recognize that each resident may require additional support with tasks that were once effortless. Available round-the-clock, our team is here to help with essential activities of daily living, including dressing, bathing, and medication management.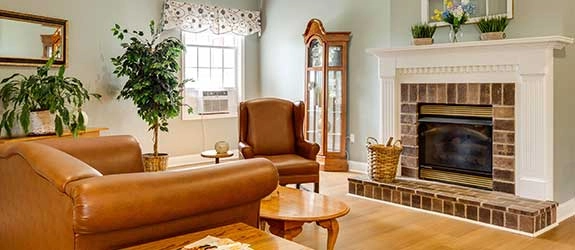 Schedule your tour at Birch Gardens.
Your loved one deserves the pinnacle of care.